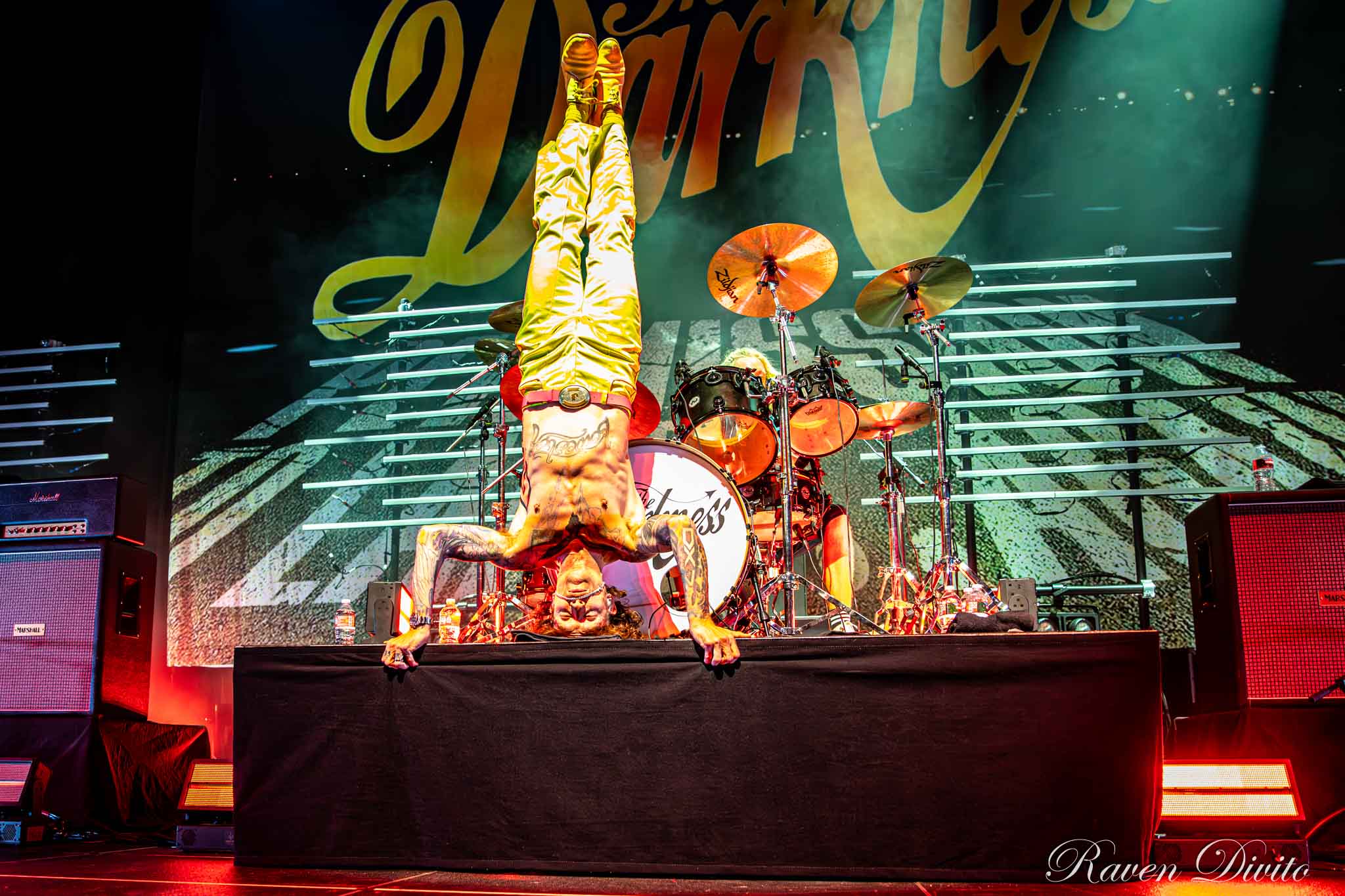 The Darkness
Photos and review by Raven Divito
@rockinshots
San Francisco's The Masonic became a magical vortex of nostalgia and sonic splendor on October 3, 2023, as The Darkness kicked off their "Permission To Land 20" tour, a 20th anniversary celebration of their iconic album, in front of a ready to rock crowd.
Taking center stage was the charismatic Justin Hawkins, his voice a near-operatic force as he belted out Darkness hits. The audience loved the whole set, yelling out lyrics, trying to hit the high notes along with Hawkins even though his range is amazing and out of reach for mere mortals.
During the set Hawkins underwent some costume changes, and he treated the audience to his chiseled physique while he did things like handstands on the drum podium. Bandmates Dan Hawkins on guitar, who is also Justin's brother, plus bassist Frankie Poullain, and drummer Rufus Taylor, were all full of energy on this opening night of the tour, looking happy to be playing for the enthusiastic crowd.
Hawkins himself said this in their official press release: "When Permission to Land landed, twenty short years ago, we were bathed in shock and awe. As if by magic, Rock wasn't dead! Fun wasn't banned! And Spandex was almost acceptable again…Well, guess what? Twenty years on, the same rules apply. So please to squeeze yourselves into those inappropriate leggings, back-comb your mullet, splash on a big handful of attitude, and come celebrate with us! We promise everything and we deliver, every time. Bring on the next twenty! The Darkness. The best. For you. Forever."
They love their fans and their fans love them.
The 18-song setlist was a curated journey through The Darkness's legacy, spanning beyond "Permission To Land." Highlights included the firey "Bareback," "Get Your Hands Off My Woman," and the iconic "I Believe In A Thing Called Love." Each track showcased The Darkness's ability to blast raw rock power with irresistible melodies.
As the night crescendoed, the band gave the audience a two-song encore, featuring the anthemic "I Love You Five Times" and the electrifying "Bells End." Nobody wanted it to end, and luckily the tour continues through the end of October, wrapping up in Washington DC on 10/22. If they're anywhere near your US city don't miss out! For the latest info: www.thedarkness.com.