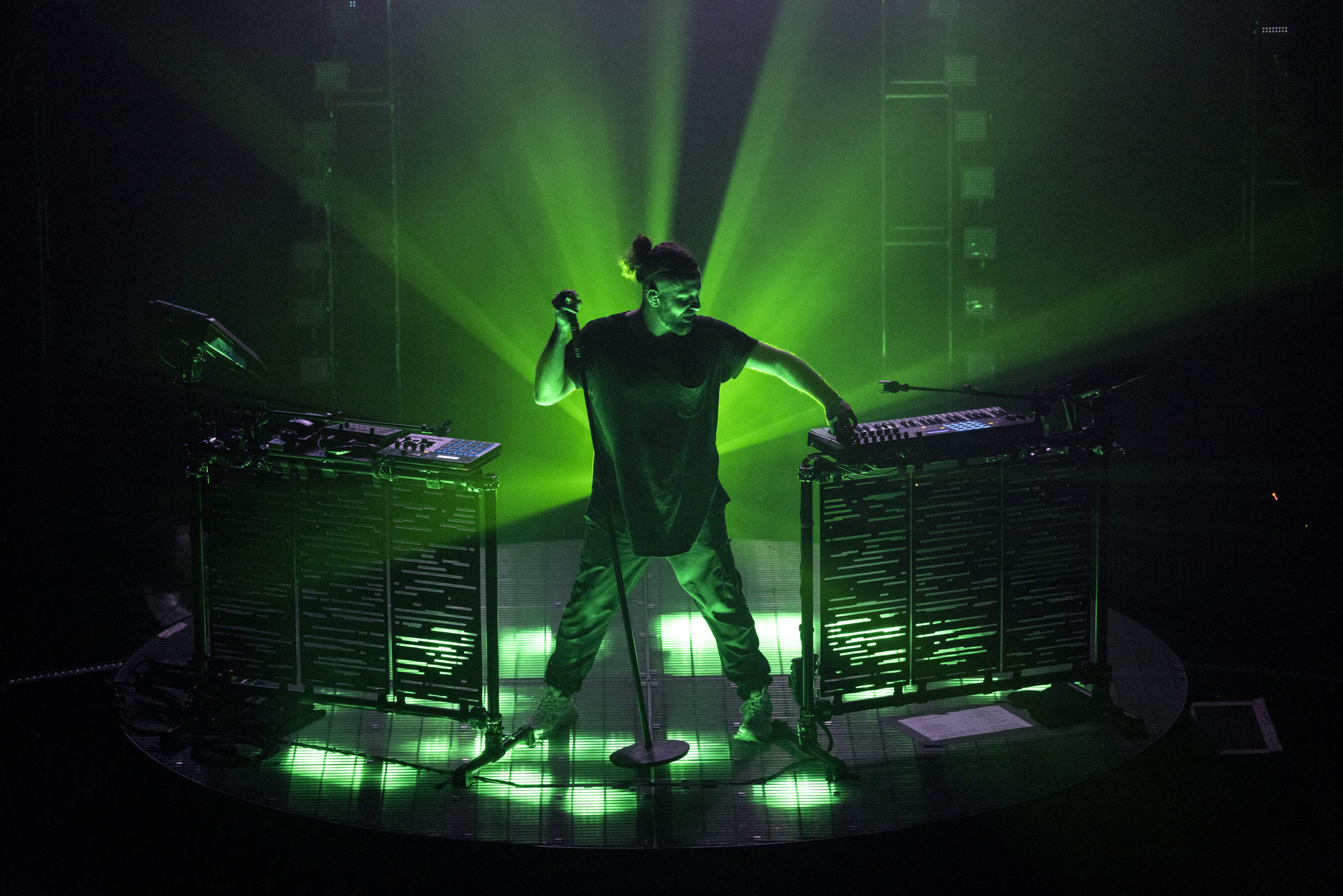 Elderbrook
The crowd was alight on April 13th when Elderbrook took the stage at The Warfield in San Francisco for the last night of his 2023 Little Love tour. He'd been warmed up by openers Erez and ford., and by the time he came out the crowd was ready to dance, drink, and sing. Playing songs like "Numb," "Old Friend," and "Howl" did the trick and got fans dancing in the aisles at The Warfield so much that security had to constantly sweep them for clearance, but this crowd wasn't going to be pushed behind boundaries and just kept dancing the night away.
Elderbrook does beats, Elderbrook does drops, Elderbrook makes the crowd dance. He also sings, he's also a performer, and he also makes the kind of soulful EDM that many other dance artists wish they could generate but can't get past the machinery to find. Even if all the ones and zeros went away, Elderbrook would rise. And according to opener Erez, Elderbrook is not only a great musician, but an excellent human being and touring family figurehead, which is hopeful and encouraging to hear coming from a woman about a man in power right now.
The stage lighting was fantastic, which a little research shows was done by @tim_routledge_lighting_design and made Elderbrook's set dynamic and moody and the perfect background for his performance.
Openers Erez and ford. started the show with their own styled EDM and got the crowd warmed up and moving. Erez buzzed up the crowd with songs like "Modern Dream," and one song had a long extended drop which the forty year old white dudes in the crowd got so hyped to they almost lost their minds. Second opener ford. played the middle of the three sets at a desk at the front of the stage with a laptop and a lamp for light (the photographers thanked you) and looked a little like Logic's bespectacled bro as he digi-spun hits like "Dawn" and "The Feeling."
The Little Love tour finished in San Francisco with the crowd loving it, but Elderbrook will make more appearances sporadically throughout the rest of the year (like at Coachella, and at The Fox Theater in Pomona, CA) and can be kept track of here at www.elderbrookofficial.com.