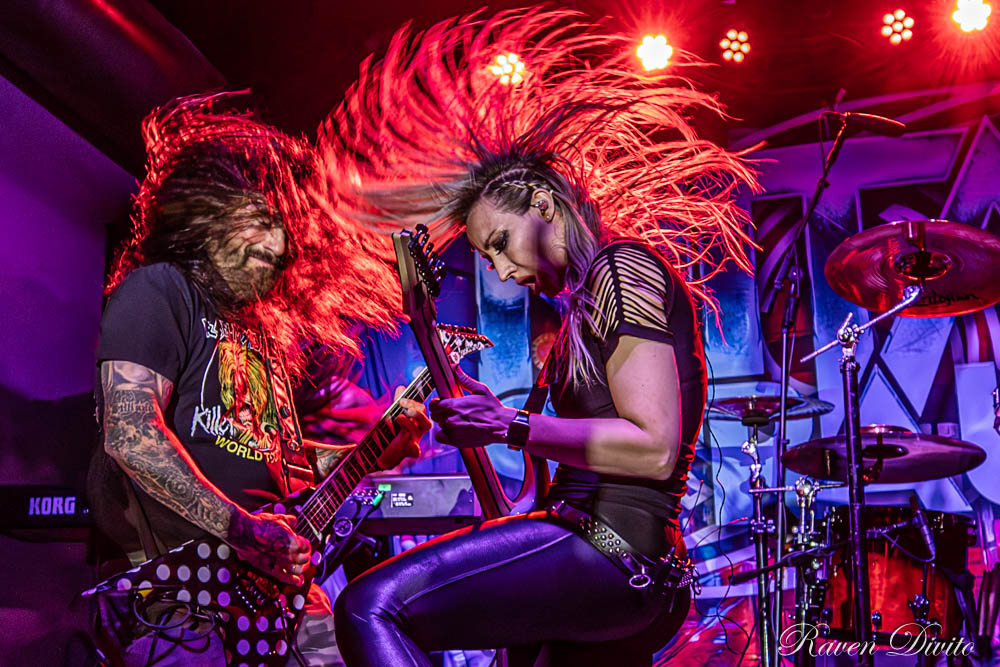 Nita Strauss
Photos and Review by Raven Divito
@rockinshots
It's a rare occasion when a larger-than-life artist such as Nita Strauss plays at a small bar. On July 5th in Sacramento the crowd was gifted with her talented band on a stage no higher than two feet, with just two feet between the band and the crowd. So when I say a larger than life experience, it honestly was!  
Nita took time off from touring with Alice Cooper and Demi Lovato to embark on her "Summer Storm" tour in support of her new album "The Call of the Void," which will be released on July 7, 2023. On July 6, 2023 the band was slotted for a record release show at The Whiskey A Go Go in Hollywood, CA., in her hometown.
I got to the venue 3 hours early, and went inside for some food and a beer.
The tour bus had gotten a flat tire, so the band was a bit behind schedule in getting set up for the night. I actually saw the tour bus pull in and Nita walked right past me outside. I felt an immediate sense of purity and wholesomeness about her. Yes, this was my first time seeing her and I could feel the goosebumps rise up in excitement to see her play. 
The doors didn't open until 7pm, but there was a VIP meet and greet slotted for this show at 6pm. I saw 50 people start lining up around 5pm. These were die-hard fans who brought their guitars and other memorabilia to get autographed by Nita. I engaged with quite a few of them and listened to their stories of other shows they'd been to while excitement grew inside of me listening to all their fabulous Nita Strauss experiences.
Then the doors opened for the VIP and I was hanging out with 5 of them, and they encouraged me to come inside, so I did. Nita was onstage with her large backdrop waiting for the Q & A time and then to take pictures with each of the fans that paid the extra money. Nita is well composed, intelligent and emanates an extremely beautiful aura. I observed her listening attentively to the questions and thoughtfully replying with a pureness. One of the fans asked her, "What is your worst moment onstage?" Nita replied, "It was when I tore my meniscus in the first song playing with Alice Cooper last year on tour." The next question was, "What is your best moment onstage?" She said, "There are too many to name, although a highlight is being asked to play with Alice Cooper".  Nita stated "I play my best with pressure on me, and at larger stadiums and crowds." She was very humble and down to earth during the entire Meet and Greet.
Lights faded, the intro started and Nita came out shredding like she was on fire. I could feel the fans pushing forward and we were now in her vortex of guitar greatness. Nita didn't appear to be hindered by her injury at all, as she was thrashing about effortlessly through their 14 song setlist.  Nita is backed by a supergroup of musicians, consisting of her fiance, Josh Villalta on drums, (who proposed the next evening at her record release party), Johnny Young (rhythm guitar), Christopher Dean (bass), Katt Scarlett (keyboards), and Kasey Karlsen (vocals). 
This is the first tour that Nita has had a singer tour with her, in the past her shows have been instrumental. On this evening Kasey turned 21 and she gave it her all! Nita even took a moment to ask the crowd to sing Happy Birthday to her.
Each member rocks so hard, it is hard to focus on just one, although Nita in her domineering presence, explosive and intense guitar skills which are immeasurable, makes it almost impossible to take your eyes off her.  
The setlist was flying by too quickly, but on the 13th song "Dead Inside," and for the last song of the night "CFH," Nita surprised us with a special guest in Phil Demmel, lead guitarist of Machine Head, Slayer, Lamb of God and Testament to name a few. Wow!! What a spectacular evening this turned out to be, way beyond my expectations. 
Nita Strauss, aka Hurricanenita, is just that! A whirlwind of immaculate guitar greatness and superb showmanship. She is a phenomenon! You have to see it to believe it. I guarantee you will be sucked up into her limitless deep great space.
Nita and band will be wrapping up her "Summer Storm" tour in New Orleans on July 14th, 2023, then she will be joining Alice Cooper on his "Too Close For Comfort" Tour starting on August 24, 2023. For more information check out www.nitastrauss.com for all the latest.